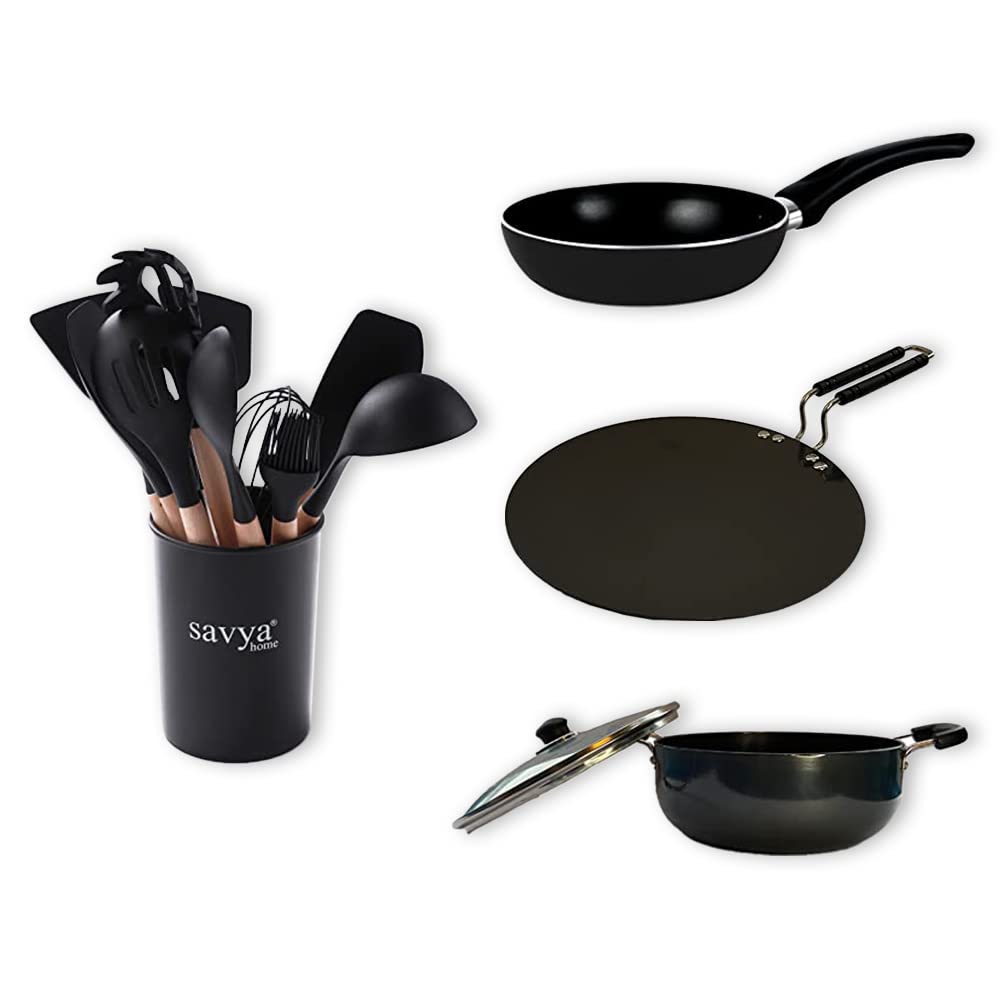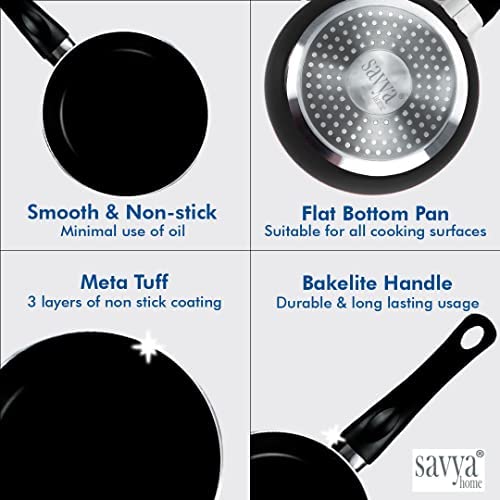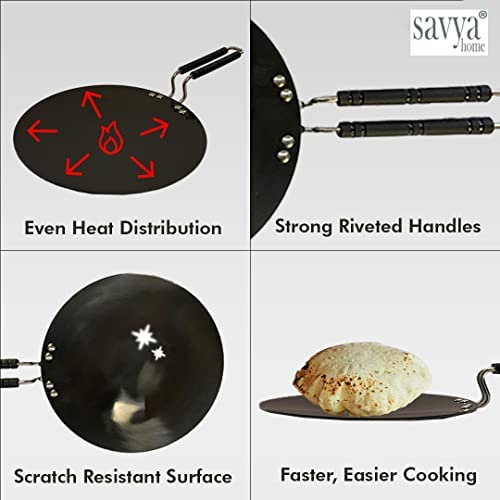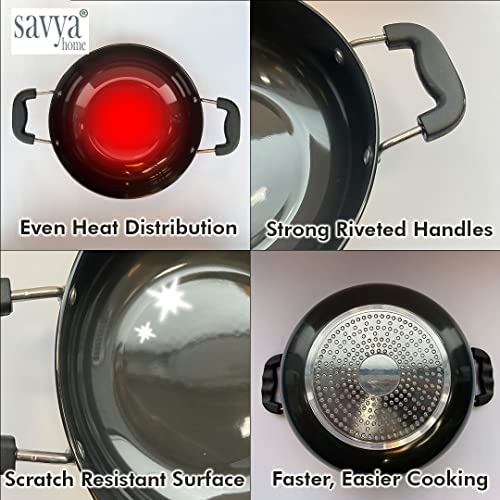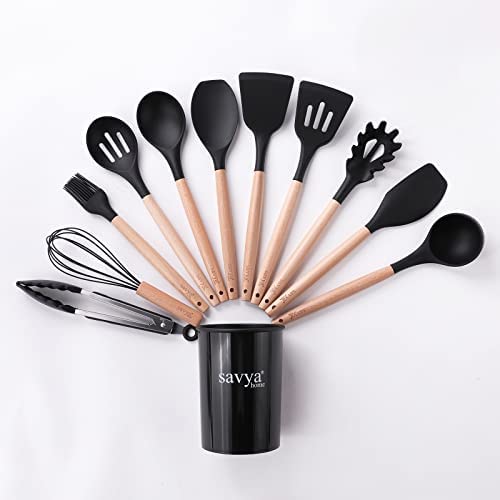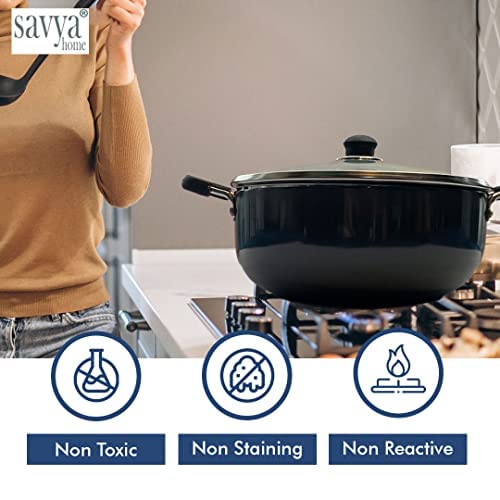 SAVYA HOME® Hard Anodised Roti Tawa - 25cm, Hard Anodised Deep Kadai 20cm, Non Stick Fry Pan - (22cm) - 2.3m & 12-Piece Silicon Spatula Set Combo | Stove & Induction Cookware |Heat Surround Cooking |
Regular price

₹ 8,996/-

Sale price

₹ 3,199/-

Unit price

per
About the product :
MATERIAL - Savya Home cookwares with induction base is made of premium quality anodized & the non-stick cookware comes with 3 layers of meta tuff non-stick coating.Each silicon spatula in this non stick cookware set is 100% BPA-free & food-grade safe.
FEATURES - The thoughtful design of Savya Home's cookwares allows for even heat distribution while cooking, preserving nutrition and providing a healthier cooking experience overall. The spatula set is made of premium silicon material.
APTNESS - This Savya Home cookware works on both induction and gas stoves.The Spatula set is made of premium non-stick material that remains heat resistant up to 230 ℃.
DURABLE & SLEEK DESIGN - All Savya Home Cookwares are designed to last a lifetime. The entire kitchen set is intended to add a fashionable touch to your kitchen.
EASY TO USE AND CLEAN - The Savya Home's cookwares are thoughtfully designed with tapered edges to ensure drip-free liquid pouring. The sleek design makes cleaning simple.
10 customers are viewing this product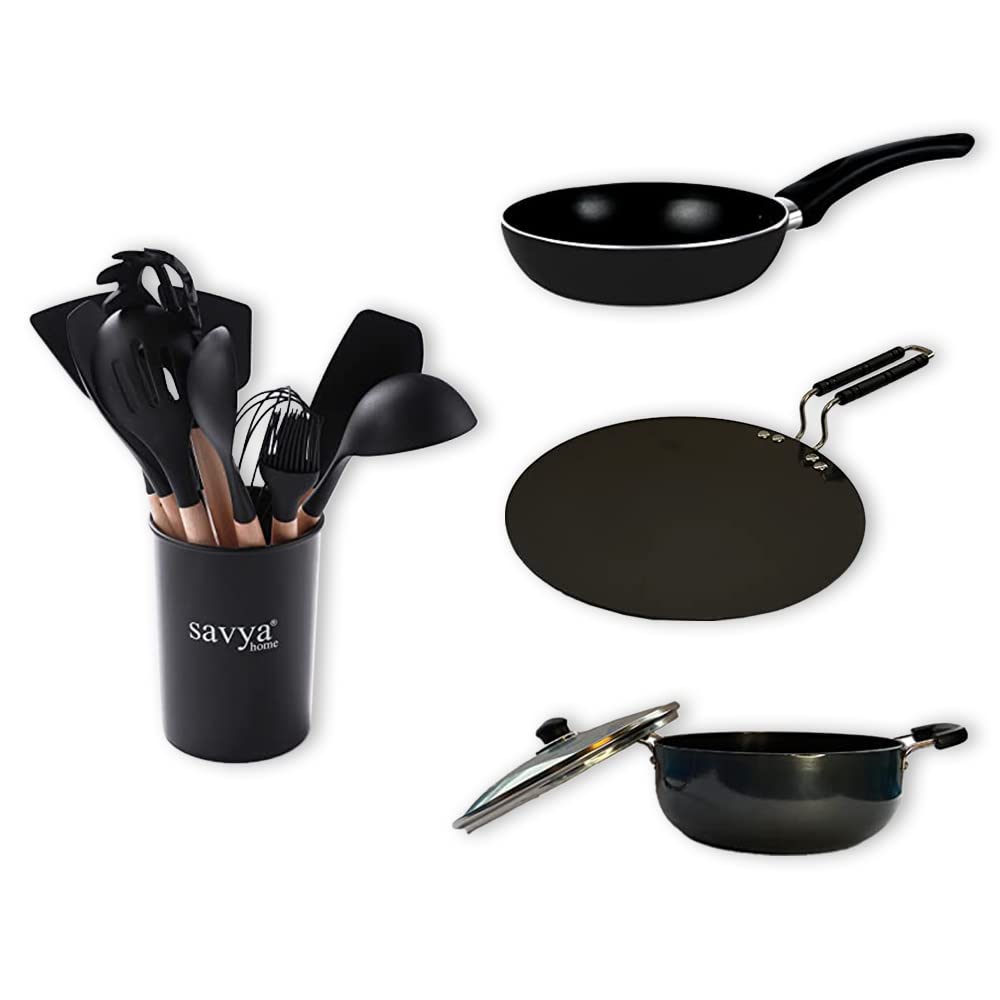 SAVYA HOME® Hard Anodised Roti Tawa - 25cm, Hard Anodised Deep Kadai 20cm, Non Stick Fry Pan - (22cm) - 2.3m & 12-Piece Silicon Spatula Set Combo | Stove & Induction Cookware |Heat Surround Cooking |
Product Description :
Savya Home is a range of home utility products built on the belief that modern science is but an inspired ode to the ancient Indian heritage.The Savya Home stainless steel and hard anodised utensils is designed to have an elegant and sleek design. It is also made of premium quality aluminium that enables even heat distribution. This stainless steel and hard anodised utensils aluminium can serve as both - stove and induction cookware. The three layers of stainless steel triply utensils ensure even heat distribution throughout the base and sides, eliminating hotspots. This ensures even cooking and reduces the risk of food burning on one side. These cookwares are non-toxic and non-reactive making them user-friendly and safe to use. The induction base of stainless steel and hard anodised utensils is designed to ensure even distribution of heat throughout the base and sides, thus eliminating hotspots. This provides for even cooking and reduces the risk of burning food on any one side. Easy to use and easy to clean i.e. this hard anodized stainless steel and hard anodised utensils is non-staining, making it extremely easy to clean. All Savya Home non-stick cookware is manufactured to ensure maximum durability. Furthermore, the aluminium stainless steel and hard anodized utensils with lid are made of premium quality hard anodized aluminium, ensuring long-term durability.
---
Detailed Specifications:
| | |
| --- | --- |
| Package Dimensions : | 41 x 41 x 23.4 cm; 1790 Grams |
| Size : | Medium |
| Marketed by : | Merhaki Foods & Nutrition Pvt. Ltd. |
| Colour : | Balck |
| Brand : | SAVYA HOME |
| Care Instructions : | Dishwasher Safe |
| Model Number : | cookware |
| Is Assembly Required : | false |
| Batteries Required : | false |
| Included Components : | 4 |
| Country Of Origin : | India |